---
Procedure:
1. IMMEDIATELY wash out the blood stain with cold water. When doing so, please ensure that you don't make the artificial leather too wet. Clean large areas, always from seam to seam. To do this, use a soft, clean cotton cloth and apply light pressure. If you have any distilled water at home, use this to avoid unsightly limescale marks. If not, use normal tap water.
2. Then clean with the SEDICUR® Cleaning Set for artificial leather.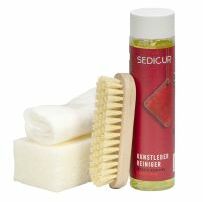 The SEDICUR® Cleaning Set is perfectly suited for the intensive cleaning of artificial leather furniture. Oily and greasy stains such as colour transfer, e. g. from jeans, are particularly easy to remove with this product.
content: 250 ml, brush, sponge, cloth
Item number: 6070