---
Jeans discoloration on artificial leather furniture is often unavoidable without taking special precautions. The best cleaning results are achieved with the special SEDICUR® Cleaning Set. And after cleaning, a treatment with the SEDICUR Strong Protector is recommended, which counteracts renewed discoloration.
Product recommendation: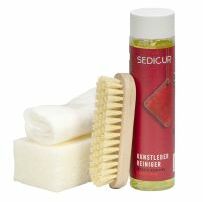 The SEDICUR® Cleaning Set is perfectly suited for the intensive cleaning of artificial leather furniture. Oily and greasy stains such as colour transfer, e. g. from jeans, are particularly easy to remove with this product.
content: 250 ml, brush, sponge, cloth
Item number: 6070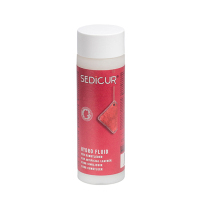 Perfect care for artificial leather after cleaning with the SEDICUR® Cleaner. The SEDICUR® Hydro Fluid spends moisture and maintains a nice and smooth grip.
Item number: 6073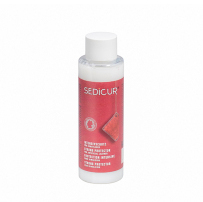 The premium SEDICUR® Strong Protector contains a special component to give an effective and longlasting protection for light coloured artificial leather against early soiling, e. g. colour transfer from dark jeans, and helps to maintain the beauty of your leather furniture.
content: 200 ml, 2 cloths
Item number: 6072