---
Unfortunately, jeans discolouration on leather furniture is often unavoidable without taking special precautions. Especially with light-coloured leather furniture (or car seats), unsightly denim marks can arise in a relatively short time. The colour pigments of the clothes literally "migrate" into the leather surface and cannot be removed with conventional cleaners. We will demonstrate to you here how, with the professional KERALUX® Jeans Cleaning Set you can gently and thoroughly remove the discolouration.
Product recommendations: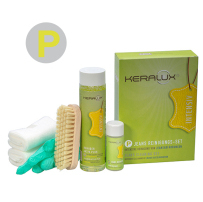 Especially for the thorough removal of stubborn jeans stains on leather. Suitable for pigmented smooth leather.
Item number: 3030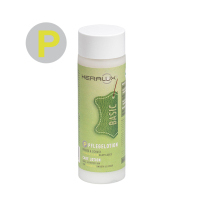 Care and protection for pigmented smooth leather. It spends the leather useful moisture and nutrition. The additional sun protection helps to prevent early fading. Perfect care after cleaning of pigmented smooth leather.
content: 250 ml

Item number: 3010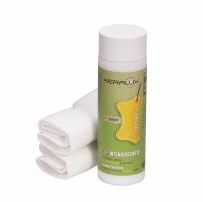 The premium KERALUX® Strong Protector contains a special component to give an effective and long-lasting protection for light coloured pigmented leather against early soiling, e. g. colour transfer from dark jeans.
Contents: 200 ml, 2 cloths
Item number: 3100