---
Stylish glass furniture is a furnishing highlight in any household. But only clean glass furniture can charm with its radiant shine, and it must therefore be cleaned regularly and properly.
The mere thought of frequent cleaning deters some home owners from having furniture with glass surfaces. No sooner have you cleaned the glass table, fingerprints and glass rings show up again. But do not worry, by following our care tips you will always be able to enjoy your glass furniture.
When cleaning glass furniture, it is especially important to select the appropriate cleaning agent. It may not be aggressive, or leave scratches or smears and streaks. To be on the safe side, it is advisable to use a special, professional glass cleaner.
The LCK cleaning and care set is ideal for the professional cleaning and polishing of high-quality and sensitive glass surfaces. Frosted and satin-finished glasses in particular, but also structured and sandblasted glass will be streak-free, clean and retain their special beauty.
---
Product recommendations: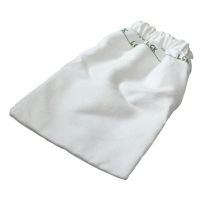 The Cleaning Glove is suitable to remove dust regularly from your leather, textile and artificial leather upholstery, as well as on all smooth surfaces like stone, synthetic material and glass.

Content: 1 glove
Item number: 0111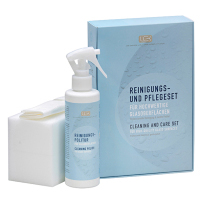 The Cleaning and Care Set is perfect for the professional cleaning and polishing of high-quality glass surfaces.
Especially satin and frosted as well as textured glasses get free of streaks and stay beautiful.
Contents: 200 ml glass polish, 2 cleaning sponges, 1 cloth
Item number: 1084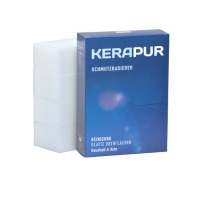 The KERAPUR® eraser removes dirt like limescale residues, fat and fat abrasion strips on all smooth surfaces like glass, ceramic, plastic, stone, metal, stainless steel and ceran around the household, car and on furniture. Easily and with just some water – without any addition of other cleaning agents.
Item number: 0200
---
GENERAL PRODUCT RECOMMENDATIONS FOR VARIOUS FURNITURE SURFACES