---
Pull-up leather is a collective term for leather whose surface has been treated with a mixture of wax and oil. Leathers treated in this way include aniline leather, nubuck leather and velour leather. A characteristic of pull-up leather is that it is susceptible to signs of use, scratches and clearly visible creases, which can be removed by re-polishing. Over time, pull-up leather develops an attractive patina.
To achieve an individual appearance, a coloured wax or oil finish can be used As an alternative, it is possible to refine the leather without colour. In general, a sealing finish is also often used with pull-up leather, so that the leather does not discolour and abrasions are kept to a minimum. Nevertheless, a striking finish is certainly desirable, because pull-up leather is often used in the vintage sector, where signs of wear and patina are part of the lively charm.   
Furniture with pull-up leather is characterised by an individual, striking design. The leather has a very lively and warm feel, and, if you do without a sealing finish, is very breathable, which is very pleasant - especially for seating furniture. A sofa made of pull-up leather lives every day and becomes more individual, soft and beautiful with every use. Traces of use are a sign of nature and life here, and should be left to some extent in the leather. Pull-up leather is a very high quality material that comes at a price – but which is worth it.
Correct care for pull-up leather
When treating pull-up leather, do not use an alkaline or strong, degreasing detergent, as this minimizes or even completely eliminates the effect. Instead, special cleaning and care products should be used. In everyday situations, it is sufficient to wipe down the leather with a duster. When doing so, care should be taken not to rub too hard, as this can lead to colour abrasion and light spots. 
Warning, likelihood of confusion: pull-up leather and plastic-coated leather (colloquially, PU leather)
Pull-up leather is often confused with plastic-coated split leather (incorrectly called PU leather) because of its similar name and similarity in appearance at first glance. Pull-up leather and so-called PU leather are two fundamentally different materials. While pull-up leather is a genuine, high-quality product, material that is incorrectly called PU leather is often a cheap split leather that is coated with a plastic film, for example polyurethane foil. This gives the leather a smooth, glossy appearance.
In contrast with the high-quality pull-up leather, film coated leather is not breathable, and the film often wears off after just a relatively short period of use. Once such damage has occurred, it cannot be repaired.
Wiping the surface of PU-coated leather down with a damp cloth is sufficient for cleaning. Moisture and drops cannot penetrate the plastic film, meaning that stains will not appear even in the event of a mishap.
Our product recommendation for pull-up leather: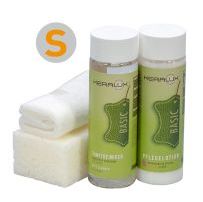 Perfect for the regular cleaning and care of saddle leather (waxed leather).
contents: 2 x 200 ml, sponge, cloth
Item number: 6065
---