---
Stainless steel fixtures and furnishings are found in every home, and not just in the kitchen. But only cleanly maintained stainless steel surfaces look attractive and stylish. Here, regular cleaning and care is required to ensure that fingerprints and limescale do not have a chance.
First of all, some good advice: stainless steel is very sensitive to "incorrect" cleaners. Therefore, it is particularly important to use only appropriate products. These may not be aggressive and may not scratch the surface. And they should reinstate the fine shine of the stainless steel after polishing.
Although stainless steel furniture surfaces are robust, they are also very care-intensive. It is advisable to react immediately in the event of soiling and to remove the stains. High-gloss stainless steel in particular is prone to greasy fingers, limescale rings due to water droplets, etc. If stainless steel is not gently cleaned on a regular basis, the surface will become dull over time and loses its beauty.
The INOXAN Stainless Steel Polish will clean the surface, renew the gloss and provide light protection. This allows for the effective removal of dust and fingerprints, as well as light grease and limescale soiling. It is very easy to use and protects against fingerprints and the further build-up of soiling.
RECOMMENDED CARE PRODUCTS: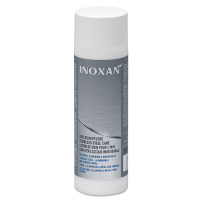 INOXAN Stainless Steel Care is a highly effective special product for the protection and maintenance of stainless steel (matt and polished)
Item number: 1095
---
OTHER CUSTOMERS ALSO BOUGHT: