The same rule applies to coffee stains: the fresher the stain, the easier it is to remove. Please select the cleaning product suitable for your type of textile. Important: Pretest the products on a hidden area before use.

---
SELECTING THE APPROPRIATE CLEANING PRODUCT: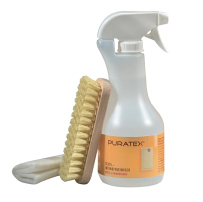 The PURATEX® Strong Cleaning Set includes everything you need for the thorough cleaning of textile upholstery. The PURATEX® Strong Cleaner removes even old, stubborn stains gently and without any bleach.
content: 500 ml, brush, cloth
Item number: 1070/1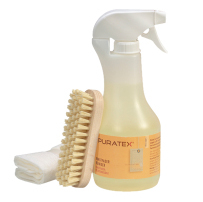 The PURATEX® Cleaning Set for synthetic fibres is perfectly suited to clean all synthetic fibre upholstery furniture.
Contents: 500 ml cleaner, brush, 2 clothes
Item number: 1100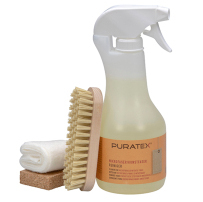 This cleaning set is perfectly suited to clean all microfibre upholstery furniture. With this cleaner it is easy to remove soilings, even greasy stains. Also suitable for removal of edges caused by improper cleaning agents.
contents: 500 ml, brush, cloth, cork
Item number: 911049