---
Vegetable tanned leathers are characterised by the fact that the animal skin is tanned exclusively with parts of plants. Barks in particular, e.g. oak, spruce or birch, but also leaves (for example from olive trees) or fruits are suitable for this process.
Vegetable tanning has long since been the most common way of producing leather. It has been proven that leathers were being tanned with as far back as 5000 years ago. Today, vegetable tanning only accounts for around 10% of the leather produced.
Vegetable tanned leather is usually recognised by its dyed brown/cognac-coloured hue. The cleaning and care of this type of leather is somewhat difficult because the leather is extremely delicate and can not even be cleaned with water, otherwise the surface of this type of leather will be destroyed.
We therefore recommend that you only clean the leather with KERALUX® Cleaner for Vegetable Leather and then treat it with the specially developed KERALUX® Care Lotion V, to retain the beauty and typical properties of this type of leather.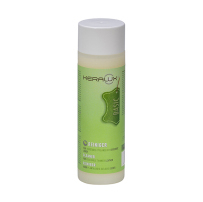 Specially for the gentle cleaning of vegetable tanned leathers.
Item number: 3022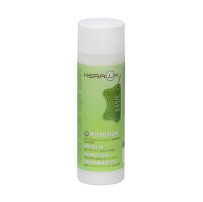 The KERALUX® Care Lotion for vegetable tanned leather spends vegetable tanned leather essential moisture and gentle refatting.
content: 250 ml
Item number: 6088
---
GENERAL LEATHER CARE RECOMMENDATIONS