---
PIGMENTED LEATHER /semi-aniline
Product recommendation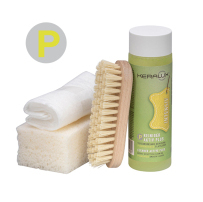 KERALUX® Cleaning Set Active Plus is perfectly suited for the intensive cleaning of pigmented leather
furniture. Oily and greasy stains such as colour transfer, e. g. from jeans, are particularly easy to remove with
this product.
Item number: 6020
---
PURE ANILINE / untreated leather
Treat the area to be cleaned with the KERALUX® Degreaser Spray. Spray over a large area, not just on the stain itself. Then remove the colour stains with the KERALUX® Ballpoint Pen Remover II. Please carefully follow the instructions here as well. Then clean the leather with the KERALUX® Strong Cleaner. Finally, treat and protect the leather with the KERALUX® Care Lotion A.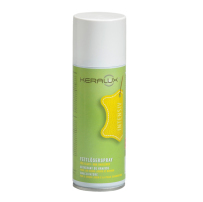 Suitable for removing oily and greasy stains from all types of leathers (even pure
aniline, nubuck or suede leather). Do not use on imitation or artificial leather.
content: 200 ml
Item number: 3060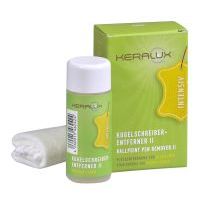 Stain remover for older pen, lipstick and ink stains for use on smooth leather (pure aniline, semi-aniline, pigmented leather). Do not use on nubuck/suede leather, artificial and synthetic leather.
content: 50 ml, 1 cloth
Item number: 3051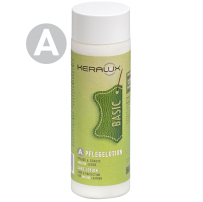 Care and protection for natural aniline leather. It spends the leather useful moisture, nutrition and impregnation. The additional sun protection helps to prevent early fading. Perfect care after cleaning of aniline leather.
content: 250 ml

Item number: 6025