---
Lipstick stains on artificial leather furniture can be cleaned easily with the SEDICUR® Cleaning Set. The best results are achieved if you react immediately and do not give the colour pigments of the cosmetic any time to penetrate into the upholstery covering.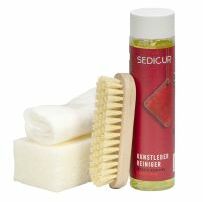 The SEDICUR® Cleaning Set is perfectly suited for the intensive cleaning of artificial leather furniture. Oily and greasy stains such as colour transfer, e. g. from jeans, are particularly easy to remove with this product.
content: 250 ml, brush, sponge, cloth
Item number: 6070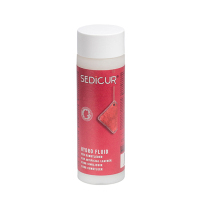 Perfect care for artificial leather after cleaning with the SEDICUR® Cleaner. The SEDICUR® Hydro Fluid spends moisture and maintains a nice and smooth grip.
Item number: 6073