---
What do I do if my leather sofa is faded?
If the colour of your leather sofa has lost some of its freshness over the years or has actually faded away altogether in some places, that is no reason to go out and buy a new piece of leather furniture. You can brighten up minor fading yourself quite easily with the aid of our KERALUX® Colour Lotion, which will be individually made up to your requirements.  We provide the KERALUX®-Colour Lotion in 22 standard colours, for smooth leather and for nubuck leather.
Modern leather upholstered furniture comes in a huge variety of colours and not all shades can be covered with the standard colours. We therefore provide a special service, our KERALUX® Colour Lotion matched to a sample. This means that we mix the colour specially to match your leather. Therefore, you can be certain the colour is absolutely the same as the original colour of your sofa. How does that work?
Simply send us a small piece of your leather (e.g. from the bottom, from the inside seam of a cushion, etc.) as a sample. We will then scan the colour shade of your sample with the aid of a modern colour mixing computer in our laboratory to produce the exact match to your colour. We will then mix the colour individually for you:
Or even easier: select the manufacturer and the exact leather designation of your sofa in the menu bar above – we have already saved the colour formula in our system. 
---
Product recommendations for refreshing the colour of different leather types:
---
If, however, the colour of the leather has faded extremely, only a specialist can help. Depending on how soiled the leather is, it will first be cleaned thoroughly, and then re-coloured.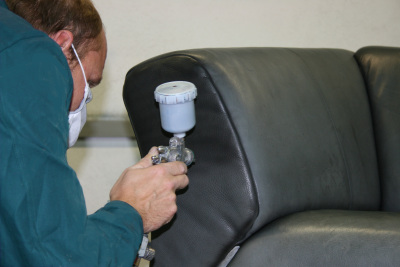 A final intensive care treatment protects the leather cover against new colour losses. By the way, re-dyeing to a different colour is also possible, but only to a darker colour than the original.
Interested? We'd be glad to give you further details. The best thing to do is call us: +49 7251 / 9625 - 0.
---